Dhaka Water War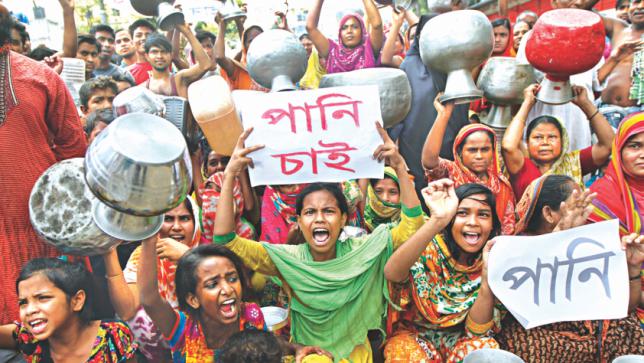 Fahmida Sattar: Dhaka water war, it is often said that mankind will experience a war over water in the near future. The claim has some truth in it, no doubt about that. But the term 'Dhaka Water War' is already an existing truth for Dhaka dwellers. It is indeed irony for a city surrounded by a river that it can not provide the least quantity of water. Experts often blame mismanagement and unplanned urbanization, rapid population growth in cities, etc. This article 'Dhaka Water War' will attempt to investigate the water crisis of Dhaka from a perspective where water is considered as a birth right not a mere commodity. In light of this idea, the article will also make an effort to provide some suggestions to lessen and then solve the water crisis, which has made the city of 15 million people a 'living hell'. The focus will be on the community measures which require less budget and bureaucratic complexities.
The Current Situation
According to a report by The World Bank, Dhaka has the highest population growth rate for a city in the entire world. Around 3-4 million people, which constitute about one-fifth of the total population of this mega-city, live in slums. Most of the slums lack any proper water supply lines from WASA. Slum-dwellers standing in long rows, waiting for hours to collect a single gallon of water, is a very common scene.
Dhaka Water Supply and Sewerage Authority (WASA) said they are producing 160 to 165 crore liters of water which is about 25 percent less than demand. It extracts groundwater using 620 deep tube wells. In addition, more than 2,200 private wells also draw water to serve high-rise buildings and various institutions. The underground water now provides 88% percent of total demand, which was 95% before The Saidabad Water Treatment Plant went into action in 1995. As a result, the subterranean water level drops about 3 meters every year. The rate is 53.75 meters in Mirpur, 18.59 in Mohammedpur and 8.22 meters in Sutrapur. This rapid fall of underground water level does not only create a crisis in the supply of water but also the vacuum left by this fall possesses a great threat of an earthquake. Besides saline water is intruding to fill up space, posing a threat to getting fresh drinking water in the future.
As Bangladesh is often titled as `land of rivers', the nearby rivers could be considered as a source of water to diminish the pressure on underground water. But WASA emits 1,000 tonnes of untreated human waste into the rivers adjacent to the city every day, which means river water is unfit for human consumption. The unmonitored industrial wastage system is worsening this problem day by day.
Community Measures of Dhaka Water War
One of the key factors which have a major effect on the gradual descending of subterranean water level is that our city planners often leave little chance for the rain water to get into the ground. Because most of the city areas are paved over, rainwater cannot be absorbed by the ground. Instead, it runs across the pavement, picking up oil, street debris, animal feces, and other waste as it moves. Reducing the amount of runoff rainwater is very critical to ensure the satisfactory level of underground water.
Experts use the term 'rainwater harvesting' to discuss the process of accumulation and deposition of rainwater for reuse on-site or underground. It goes without saying that the best way of letting rainwater go into the ground is keeping the importance of permeable surface in the head. For areas where hard surfaces are necessary, pavements should be built in a way so that it let the rainwater reach a permeable surface.
Building rain barrels is another effective way of reducing runoff and conserving rainwater. According to the tutorial, provided for the people of Minnesota, the USA by the state government, it needs only about half an hour to make a rain barrel at home. As Bangladesh yet to reach extreme water crisis conditions, building a community rain barrel is enough to tackle the present situation.
Rain gardens are another community mean of rainwater harvesting. These are concave-shaped gardens that collect runoff from downspouts, driveways and other hard surfaces. Plants that tolerate "wet feet" should be planted in the bottom, while plants that need less water are planted on the edges.
Rainwater harvesting has proven to be successful in other parts of the world. The 35 rain water harvesting systems working in NYC's community gardens collect 422,900 gallons of water every year. That's enough for 264,313 toilet flushes! The Institute of Water Management (IWM) shows if 60 percent of total rain water can be harvested in a city like Dhaka, it will be capable of providing 200 million liters of water every single day.
In India, the state of Tamil Nadu was the first to make the conservation of rain water compulsory for every building to avoid the rapid decrease in the underground water level. As a result of this, Chennai, the capital of Tamil Nadu, saw a 50% rise in water level in five years. The other states gradually followed Tamil Nadu's example and found surprising results. The state of Rajasthan receives a scant 400 mm of rainfall annually where the relatively dry western region of Rajshahi, receives 1600 mm of annual rainfall. The decade of the 1980s is Rajasthan is marked with the revival of the ancient tradition of creating Johads, large rain water reserve tanks. Now there are over 4,500 working Johads, lessening the water crisis of one of the driest places in this subcontinent.
Conclusion
In comparison with the vulnerable economy of our country, one can easily draw the conclusion that no quick solution in near at hand. First of all, the crisis should not be let to go out of control. This can easily be done by reducing the quantity of usage and wastage. Moreover, community measures are easy to be introduced and apparatuses are very available. As there is a wise saying, "All's well that ends well", the article is being concluded with good news. This November, Honorable LGRD minister has announced that the government is going to provide water supply lines in every slum area of the city within December 2015. One can raise doubt about whether it is really going to happen at last. But what can satisfy Dhaka dwellers is that this matter is taken to attention. The whole world today is talking about the impending severe water crisis. Bangladesh should not be left behind.
The writer is a student at the University of Development Alternative (UODA).
Photo Courtesy: The Daily Star