Increase Prices of Cigarettes and other Tobacco Products through Specific Taxation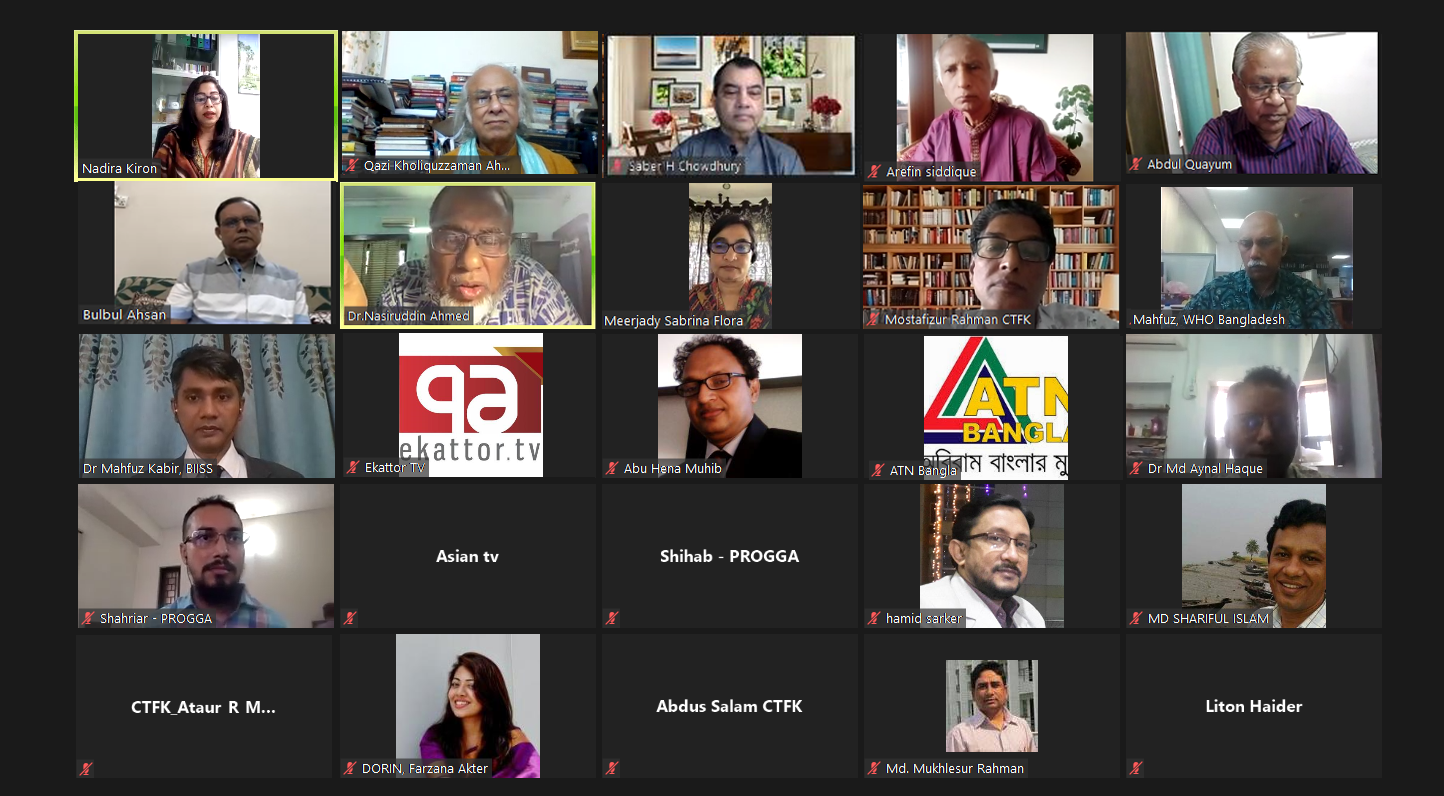 Increasing the prices of tobacco products through effective taxation discourages the youth to start tobacco use as well as encourages the existing users, particularly those financially vulnerable, to quit. To achieve a tobacco-free Bangladesh, the prices of cigarettes and other tobacco products should be increased through specific taxation, bringing these products beyond the purchasing power of the masses.
MPs, economists, journalists, and public health experts expressed such views today during a virtual roundtable, jointly organized by PROGGA (Knowledge for Progress) and Anti-Tobacco Media Alliance (ATMA), titled 'Tobacco Tax and Price Measures for a Tobacco-Free Bangladesh: Reality and the Way Forward. As PROGGA presented its budget proposals for FY 2021-22′ during the event, its estimation says implementation of such proposal would encourage 1.1 million adult smokers to quit, prevent premature deaths of 390,000 existing smokers and 400,000 youths. The proposals regarding supplementary duty, health development surcharge, and VAT on cigarettes would also earn the government an additional BDT 3400 crore in revenues.
During the roundtable, Saber Hossain Chowdhury MP, the Chairman of the Parliamentary Committee on Environment, Forestry and Climate Change, said, "Each year before the budget, we raise our demands to increase tobacco taxes. Unfortunately, the national budget never reflects our demands. Our constitution has declared that this republic belongs to its people. The constitution has also bestowed the sacred responsibility of safeguarding public health on the State. So, our Honorable Prime Minister voiced her vision for a tobacco-free Bangladesh considering all such aspects. Those who are putting obstacles in the way need to be identified." 
Eminent economist and the convener of the National Anti-Tobacco Platform, Dr. Qazi Kholiquzzaman Ahmad said, "It is quite frustrating for us to find NBR saying the increase in tobacco taxes would harm the poor. The reality is quite the contrary. An increase in tobacco taxes benefits the poor the most." In addition to supporting the budget proposals, Mr. Kholiquzzaman also called for the reinstatement of export duty on tobacco. Professor Dr. A A M S Arefin Siddique, Chairman of Bangladesh Sangbad Sangstha (BSS) and former Vice-Chancellor of Dhaka University, said, I hope those involved in the formulation of the national budget would incorporate at least some of these demands. He also focused on including lessons on the detrimental effects of tobacco in the national curriculum and other co-curricular activities.
Additional Director-General of Directorate General of Health Services (DGHS) Prof. Dr. Meerjady Sabrina Flora opined that reducing the affordability and use of cigarettes through tax increases allows the people, particularly the poor, to spend more on nutrition and other necessities. She emphasized that adopting a coordinated plan regarding tobacco control would push for increasing taxes, raising awareness and implementing the existing law.
Dr. Nasir Uddin Ahmed, former Chairman of National Board of Revenue (NBR), said, One of the major impediments in realizing such proposals in the national budget is the government's investment in British American Tobacco Bangladesh (BATB) as well as the tobacco industry's influence on NBR. He urged the Finance Minister to increase the prices of tobacco products in the upcoming budget and also to divest the government's involvement in a tobacco company. Prominent Journalist and Editor-in-Chief of TV Today Mr. Monjurul Ahsan Bulbul said, "Materializing a commitment made by the Honorable PM requires additional effort from those in policymaking level. Unfortunately, we cannot find any such effort in this case. We must be sincere in this regard."
Abdul Quayum, Associate Editor of the Daily Prothom Alo, said, "Use of bidi and cigarettes causes diseases and thus increases medical expenses which, in turn, makes the poor even poorer. We need more campaigns to raise awareness regarding such devastating consequences." Dr. Syed Mahfuzul Haque,
National Professional Officer, World Health Organization (WHO) said, "We want to raise taxes on tobacco products so that it reduces the affordability of these products among the poor demographic and also discourages the youth to start its use." He also told that due to the inelastic nature of tobacco demand, it would also increase government revenue.
The Research Director of Bangladesh Institute of International and Strategic Studies (BIISS), Dr. Mahfuz Kabir said, the users of low-tier cigarettes constitute around 70 percent of total smokers. So, if we can increase the price of this tier through specific taxation and raise it closer to the medium-tier, it would not only reduce use but also increase government revenue manifold.
Md. Mostafizur Rahman, Lead Policy Advisor for Campaign for Tobacco-Free Kids (CTFK), Bangladesh said, once the prices of tobacco products are increased, the use of these items among the poor decreases. He urged the Ministry of Health and Family Welfare (MoHFW) to play a more pro-active role in tobacco taxation.
The event was hosted by Nadira Kiron, Co-convener, ATMA. The budget proposals were presented by Md. Hasan Shahriar, Project Head, Tobacco Control, PROGGA. Among those present were also Mortuza Haider Liton, Convener, ATMA, ABM Zubair, Executive Director, PROGGA and representatives of anti-tobacco organizations and media outlets.
To raise tobacco taxes and prices, the following proposals for upcoming budget for FY 2021-22 were presented during the press conference:
Budget Proposals:
Introduce a tiered specific excise (supplementary duty -SD) with uniform tax burden (SD share of 65% of final retail price) across all cigarette brands
In the low-tier, the retail price should be set at 50 for 10 sticks, followed by BDT 32.50 as specific supplementary duty (SD).
In the medium-tier, set the retail price at BDT 70 for 10 sticks and BDT 45.50 should be imposed as specific supplementary duty (SD).
In the high-tier, the retail price should be set at 110for 10 sticks, followed by BDT 71.50 as specific supplementary duty (SD).
In the premium-tier, set the retail price at BDT 140 for 10 sticks and BDT 91 should be imposed as specific supplementary duty (SD).
Reduce price tiers from four to two in the medium-term (2021-22 to 2025-26) by reducing the gaps in final prices and tax rates between cigarettes brands
For 25 non-filtered bidi sticks, the retail price should be BDT 25, followed by a specific supplementary duty of BDT 11.25. The price for 20 filtered sticks should be BDT 20, which will be followed by a specific supplementary duty of BDT 9. As a result of such measures, in both filtered and non-filtered bidis, the specific supplementary duty will be 45 percent of final retail prices.
For SLT products, the price per 10-gram jarda and gul should be BDT 45 and 25 respectively. A specific supplementary duty of BDT 27 should be imposed on per 10-gram jarda. For gul, the specific supplementary duty should be BDT 15. As a result of such measures, in both jarda and gul, the specific supplementary duty will be 60 percent of final retail prices.
Retain the existing 15% Value Added Tax (VAT) and 1% Heath Development Surcharge on all tobacco products.
Implementation of the above-mentioned proposals for tax and price hike of tobacco products will encourage 1.1 million people to quit smoking, prevent premature deaths of 390,000 current adults and 400,000 current youth, and earn BDT 3400 crore as additional revenue from the supplementary duty, health development surcharge and VAT imposed on cigarettes. At the same time, price hikes of bidi, jarda and gul would also discourage the use among the poorest and most vulnerable demographic while contributing to govt. exchequer.
The existing multi-tiered ad-valorem taxation has rendered cigarettes quite cheap and affordable in Bangladesh. Following a price hike, consumers conveniently switch to cheaper brands instead of quitting. According to the Global Adult Tobacco Survey (GATS), 2017, between 2009 and 2017, there has been a 1.5 million increase in the number of cigarette users. The numbers reveal that the existing tobacco tax structure has not been contributing to make Bangladesh a tobacco-free country by 2040, as envisioned by the Honorable Prime Minister.
With the ongoing second wave of the COVID 19 pandemic, the health sector and overall economy of the country are going through precarious conditions. If tobacco use goes unchecked during such a period of vulnerability, it would put an additional risk for public health. According to World Health Organization (WHO), smokers are more likely to become severely ill when infected with covid-19. This makes the existing tobacco users, around 40 million in number, extremely vulnerable to severe COVID 19 infection. In Bangladesh, tobacco use claims 126,000 lives prematurely each year.
In a 2019 study titled "Economic Cost of Tobacco Use in Bangladesh: A Health Cost Approach", it was revealed that in 2017-18, the economic cost (medical expenses and loss of productivity) of tobacco use stood at BDT 30,560 crore while revenues from tobacco sector in 2017-18 FY was only BDT 22,810 crore. Raising the prices of tobacco products would discourage the youth from starting use and getting addicted while encouraging the existing users belonging to the poor demographic to quit.
Source: PROGGA Knowledge for Progress