Proposed Budget: An Impediment to Achieving Tobacco-Free Bangladesh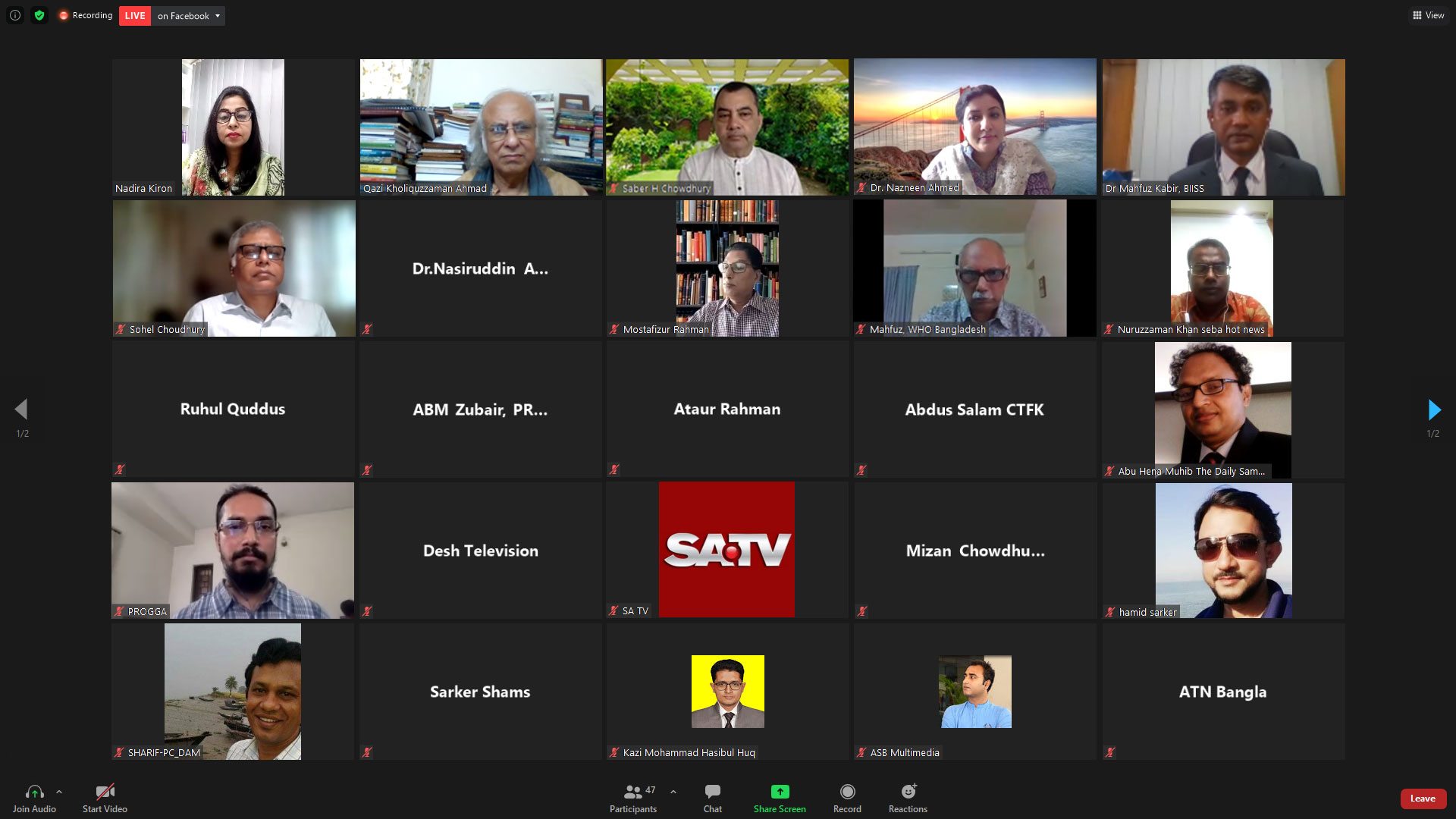 The proposed budget for FY 2021-22, if passed, will make tobacco products even more affordable and increase the use among the youth and the poor. This would put public health under considerable threat, benefit only tobacco companies, and make the government lose opportunities of earning additional revenues. Members of Parliament (MPs), economists, and public health experts said this today (13 June 2021, Sunday) during an online budget reaction event, organized jointly by PROGGA (Knowledge for Progress) and Anti-Tobacco Media Alliance (ATMA).
In its analysis of tobacco tax-related measures in the proposed budget, PROGGA drew attention to the fact that the proposed budget has kept the prices and taxes on the low and medium-tier cigarettes unchanged which respectively constitute around 72 and 16 percent of the Bangladeshi cigarette market. The prices for 10 sticks of high and medium-tier cigarettes have been raised by only Tk. 5 and Tk. 7 (5.5 percent hike), setting the prices at Tk. 102 and 135 respectively.
The increase (5 percent) is very negligible compared to the increase in per capita income of the country (9 percent). Hence, the proposed budget would make all types of cigarettes even much cheaper. According to Global Adult Tobacco Survey (GATS), 2017, between 2009 and 2017, there has been a 1.5 million increase in the number of cigarette users. The budgetary measures, as proposed, would increase the number of smokers again, putting public health in a precarious position. The prices of bidi and widely used smokeless tobacco (jarda and gul) have also been kept unchanged which would undoubtedly increase use of these products and put the low-income people into greater health risk.
PROGGA's analysis has also highlighted that imposing higher taxes on tobacco products is a pro-poor measure. The likelihood of quitting tobacco increases among the poor demographic with price hike. It also reduces premature deaths and medical expenses from tobacco-related diseases. Thus, it becomes possible for poor households to recover the loss of productivity and other income losses incurred from tobacco use. It has also come up in the budget reaction that the existing faulty multi-tiered ad-valorem tax structure is also increasing the tendency to switch to cheaper cigarette brands.
As a result, the government is losing the opportunity of earning a huge amount of revenue from pricy brands. Implementation of budget proposals of anti-tobacco organizations, i.e. increasing prices of all tobacco products through imposing specific taxes will encourage 1.1 million people to quit smoking, prevent premature deaths of 390,000 current adults and 400,000 current youth, and earn BDT 3400 crore in additional revenue from cigarettes as supplementary duty, health development surcharge and VAT. It would also expedite the realization of the vision of a tobacco-free Bangladesh by 2040, as declared by the Honorable Prime Minister.
During the roundtable, Saber Hossain Chowdhury MP, the Chairman of the Parliamentary Committee on Environment, Forestry and Climate Change, said, "The low and medium tier of cigarettes need to be merged and brought under specific taxation in the final budget of this year. We are working to save lives and we are not ready to get defeated by tobacco companies. Tobacco claims 10 to 15 times more lives than the COVID pandemic has done in one year. So why shouldn't we be worried about tobacco? The Honorable Prime Minister is on behalf of a welfare state. I know she would support our propositions, otherwise, I would not discuss this."
Eminent economist and the convener of the National Anti-Tobacco Platform, Dr. Qazi Kholiquzzaman Ahmad said, "We called for increased prices for all tobacco products. We called for the introduction of specific taxes. The proposed budget does not reflect any of these demands. However, he mentioned that the proposed budget can be changed if the Honorable Prime Minister is willing." Senior Research Fellow of the Bangladesh Institute of Development Studies (BIDS) and economist Dr. Nazneen Ahmed said, "The prices of low tier cigarettes need to be increased in one quick blow.
This can discourage the youth from getting hooked on tobacco. We want the future youth to be healthy. Only then can we utilize the benefits of demographic dividends to develop our country." The Research Director of Bangladesh Institute of International and Strategic Studies (BIISS), Dr. Mahfuz Kabir said, "The low and medium tier make up for around 88 percent of total cigarette market of the country.
As a result, these tiers required a hike so that revenues could increase and health risks could be reduced." Dr. Syed Mahfuzul Huq, National Professional Officer of WHO; Md. Mostafizur Rahman, Lead Policy Advisor of Campaign for Tobacco-Free Kids (CTFK), Bangladesh; and Dr. Sohel Reza Choudhury, Professor at the Dept. of Epidemiology and Research of the National Heart Foundation also spoke among others in the program. The event was hosted by Nadira Kiron, Co-convener, ATMA. The budget proposals were presented by Md. Hasan Shahriar, Project Head, Tobacco Control, PROGGA. Among those present were also Mortuza Haider Liton, Convener, ATMA, ABM Zubair, Executive Director, PROGGA, and representatives of anti-tobacco organizations and media outlets.
During the event, the proposals have been presented to be included in the finalized 2021-22 national budget.
Introduce a tiered specific excise (supplementary duty -SD) with uniform tax burden (SD share of 65% of final retail price) across all cigarette brands. The retail price should be set for 10 sticks cigarette in the low-tier at Tk. 50, medium-tier at Tk. 70, high-tier at Tk. 110, premium-tier at Tk. 140; followed by Tk. 32.50, Tk. 45.50, Tk. 71.50 and Tk. 91 as specific supplementary duty (SD) respectively. Besides, reduce price tiers from four to two in the medium-term (2021-22 to 2025-26) by reducing the gaps in final prices and tax rates between cigarettes brands.
For 25 non-filtered bidi sticks, the retail price should be Tk. 25, followed by a specific supplementary duty of Tk. 11.25. The price for 20 filtered sticks should be Tk. 20, which will be followed by a specific supplementary duty of Tk. 9. As a result of such measures, in both filtered and non-filtered bids, the specific supplementary duty will be 45 percent of final retail prices. For SLT products, the price per 10-gram jarda and gul should be Tk. 45 and 25 respectively. A specific supplementary duty of Tk. 27 should be imposed per 10-gram jarda. For gul, the specific supplementary duty should be Tk. 15. As a result of such measures, in both jarda and gul, the specific supplementary duty will be 60 percent of final retail prices.