Indiscriminate Sand Lifting in Mymensingh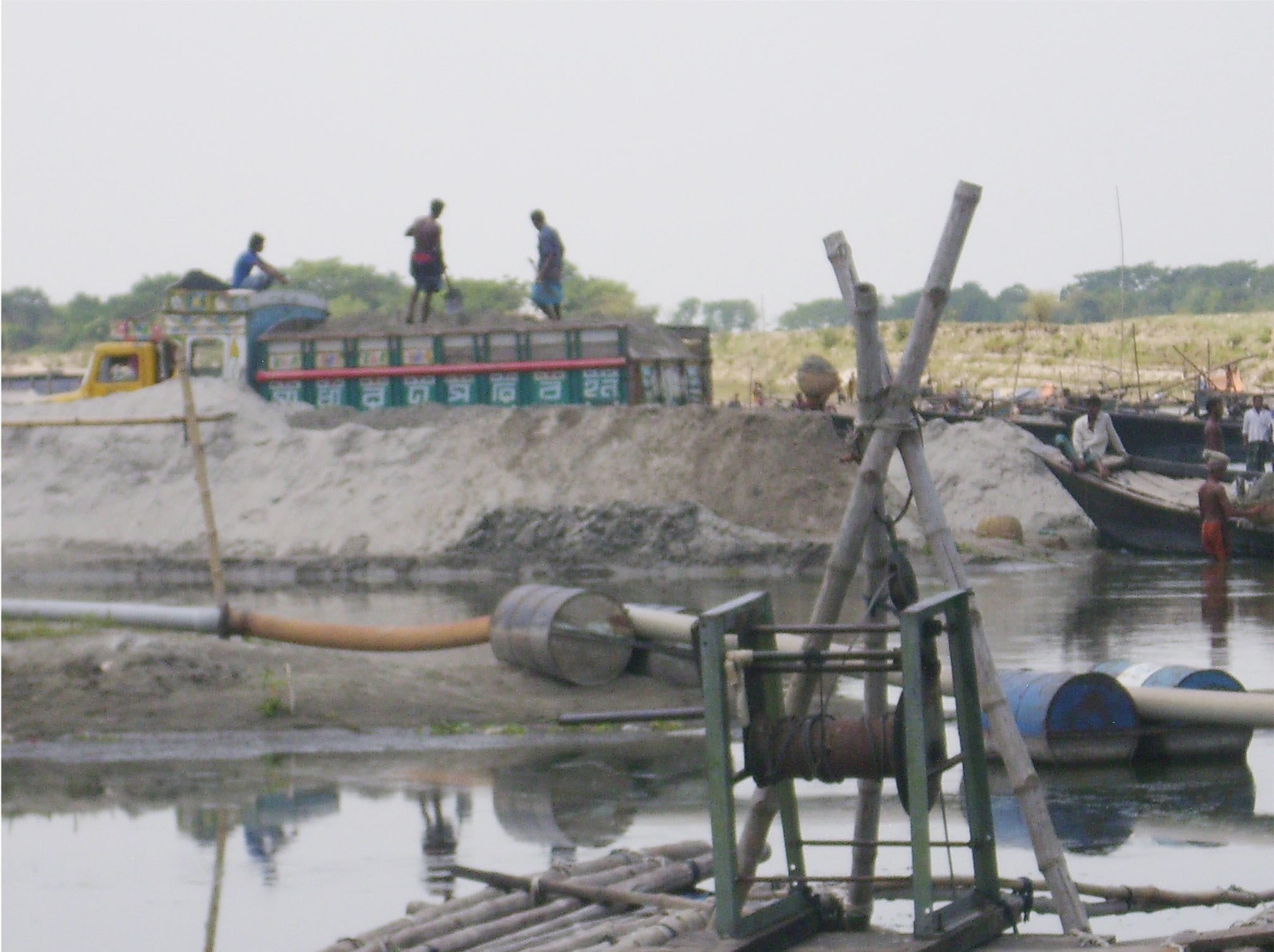 Johirul Haque: A number of important installations including the Mymensingh Town Protection Embankment, Bangladesh-China Friendship Bridge and Muktijuddha Memorial are threatened due to indiscriminate lifting of sand and earth from Brahmaputra riverbed in the district.
According to sources, the government's Mineral Resources Bureau in Dhaka authorized some traders to lift the sand and earth from nine-point of the river in Mymensingh Sadar Upazila. These are Begunbari, Goonti, Khagdahar, Jailkhana Ghat, Kachari Ferry Ghat, Kalibari Farris Ghat, Bridge Ghat, Boira Ghat, and Bhabokhali Ghat.
But the lessees belonging to different political parties including the ruling Awami League are lifting sand and earth indiscriminately, violating the terms and conditions of lease agreements, sources said. Such lifting of soil and sand continues throughout the dry season every year and such an indiscriminate act is harmful to the environment, said sources.
After taking a lease, sand traders choose the spots on their own to minimize cost and do not care to abide by terms and conditions, said Azizul Islam, a sand trader at Kachari Ferry Ghat.
Lease holders are using the dyke the day and night to carry sand and earth to different Upazlias of the district which is threatening the environment and creating massive erosion in the rainy season, said Abul Hasnat Shyamol, another sand trader.
After the visit at Kachari Ferry Ghat, this correspondent found that sand was being lifted indiscriminately from the riverbed between Mymensingh Collectorate Building and the Circuit house, very close to the town protection embankment. The earth cutting continues from morning till evening every day.
Three dredgers are being used at the said place through Water Development Board had no permission in this regard, sources said.
After lifting sand from the riverbed, a group of people carries it to different areas of the district by trucks, power tillers or tractors over the dike. The town protection embankment has developed rift at different points due to massive sand lifting.
The town protection embankment is under threat due to such indiscriminate activities of the sand lifters, said engineer Nurul Amin Kalam, secretary of Mymensingh Nagorik Andolon.
The authorities concerned are yet to take any steps to stop such activities, added the leader.
On contact, Chief Engineer of local Water and Development Board [WDB] Khoshi Mohan Sarker said, if sand collection continues like present rate, installations located between the Railway Bridge and Bangladesh China Friendship Bridge would-be affected. This could change the course of mighty Brahmaputra River in the near future, the engineer apprehended. He also said that planned sand lifting as per the terms and conditions and suggestions of WDB could be beneficial for the river and its environment. We will investigate the incident, added the official.
The writer is a journalist. He can be reached at E-mail: [email protected]