Green Savers Association, the Saver of Earth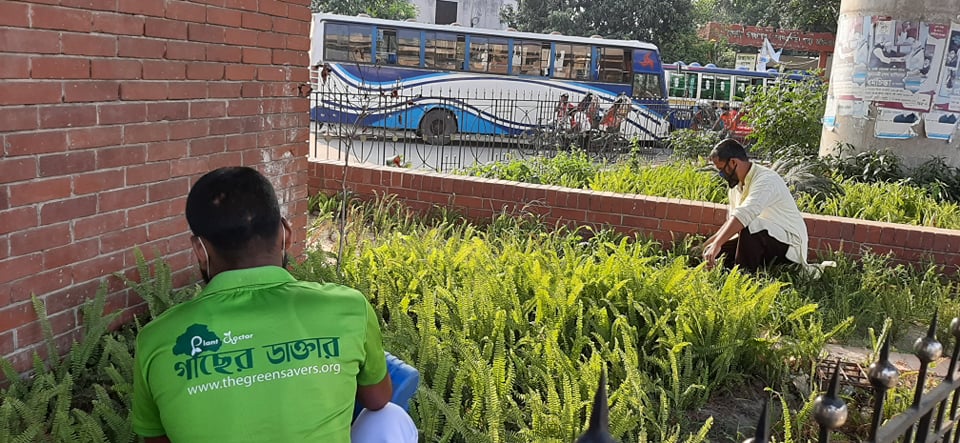 Tahjeeb Hossain Chowdhury: Covid-19 has hit a lot of lives and rendered systems useless in the months since its rise. But more and more stories of humanity banding together in protection of each other and the world have surfaced. In the lockdown era of quarantine and social distancing, our vegetation and trees might be in want of proper care. The trees in office spaces and premises especially need care. It is easy to assume that in the COVID period those trees aren't being looked after. But humanity has found a way here as well. With the Green Saviors on duty, trees in office spaces have found care.
Since March 26th the country has mostly kept to their homes. Offices have been closed while employees plough away on the keyboards on a work-from home basis. But the various plants and vegetation planted within the large office spaces need some special care. The plants are their mainly for aesthetic purposes. But as all living organisms, plants also need food and care. Over 150 offices within Dhaka City have plants within their premises.
Species of plants like Chinese evergreen, Alocasia, Monstera, philodendron, Dieffenbachia, and anthodium palm, dracaena are just some of the popular plants and vegetation used in Dhaka offices. They need regular care and proper elements to live. So Green Saviors have come forward to do just that in these trying times.
Ahsan Rony, founder of the Green Savers Association said how plants need proper care if not more like any other living creature. In the monsoon season they need medicine that save them from diseases. Pruning, cutting, pesticides to ward off insects are all essential for proper use. Rony informed that workers from Green saviors visit their client offices on a weekly basis to take proper care of the plants inside offices. They charge 425 Taka to compensate for materials like pesticides, fertilizers as well as fees of service.
In the lockdown era Green Savers have found a distinguished clientele including the Turkish Embassy in Dhaka. With clients being very impressed with their work, Green Savers are doing the world a great favor. An initiative taken in 2010, Green Savers has come through for the Green saviors of the environment even during this Pandemic.
(The writer is a marketing graduate, content writer, and data science enthusiast from Dhaka, reach him at [email protected])
Photo Courtesy: Green Savers Association