Dysfunctional Wate Management at shipyards spells trouble for the future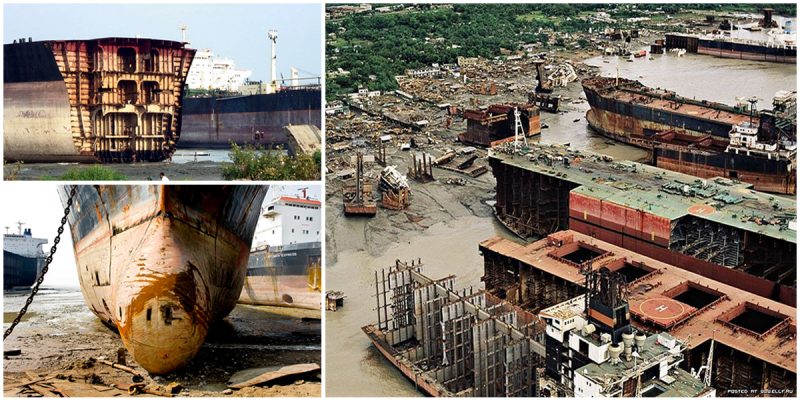 The Shipyard business in Bangladesh has been a huge source of cash flow in the economy and it also employs a lot of people creating jobs in the surrounding areas. But it cannot be ignored that the operations of a shipyard can amount to a significant pollution. And recent findings show that the shoddy waste management efforts of the businesses can have trouble in the future. 
The Department of Environment has been conducting checks to see how the businesses are doing in terms of environmental preservation. The results of the drives were less than satisfactory. Many Shipyard businesses were pinned with fines ranging from TK 50,000 to TK 80,000 to TK 5,00,000 and even TK 2 Crores. The fined parties include Khawja Ship Breaking LTD, Jahanabad Ship Breaking, Four Star Enterprise, Golden Steel Alloy works to name a few.
The fined shipyard businesses engaged in ignorant operations that threatened the ecology and bio-diversity. In the case of the aforementioned Four Star Enterprises, the business threatened an area of 1491 decimal land of the beach. Muktadir Hasan, the Assistant Director of the Chittagong region of the Department of Environment has said that these drives against the shipyards will continue to ensure proper preservation of the environment.
The waste management of the shipyards is to blame for this. The laborers in the industry have been facing a plethora of health issues stemming from exposure to Carcinogens and toxic components that are residues of the shipyard operations. The average ship break can make about 7 tonnes of asbestos. The dumping of the residues of the ship breaks can cause trouble to the soil and the water. And dumping the waste into soil and water is what is actually happening at the moment.
Mohammad Ali Shahin the senior program coordinator of the YPSA noted the dreadful state of the shipyards as six out of eight yards do not have any semblance of a system in place for waste management. He also has urged the shipyard industries to put a system in place to preserve the environmental balance as well as safeguard their own human resource properly.
In spite of the Bangladesh Environment Conservation Act of 1995's statement of making sure of no pollution in terms of shipbreaking and recycling operations, it is alarming to see that the businesses still being ignorant to the point of doing damages. Proper actions and continued drives against the dysfunctional waste management is expected to continue in full swing.
(The writer is a marketing graduate, content writer, and data science enthusiast from Dhaka, reach him at [email protected])
Photo Courtesy: The Vintage News