4th International Conference on Bangladesh Environment (ICBEN) 2020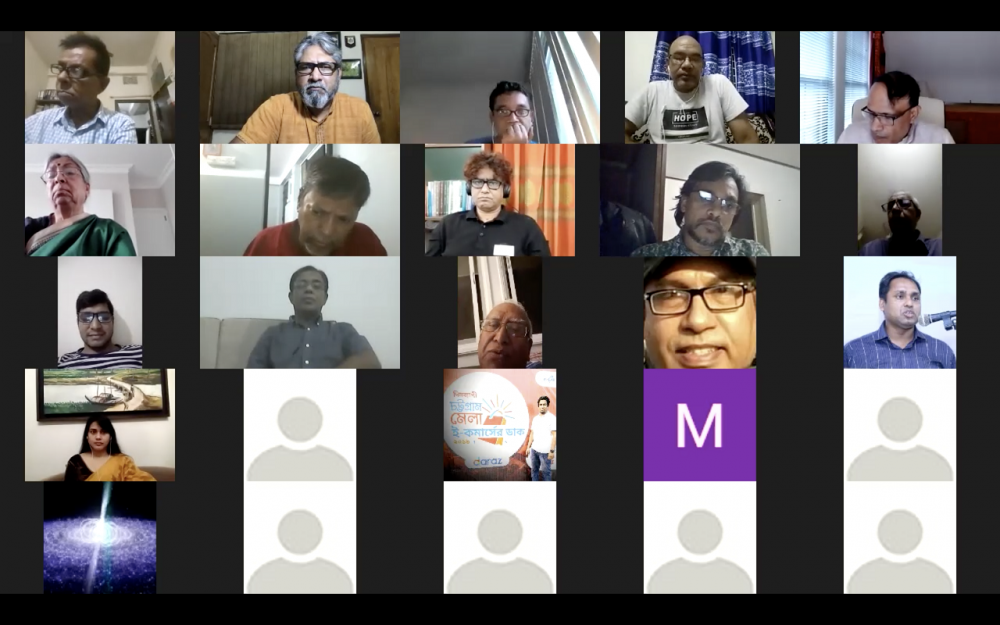 Bangladesh Poribesh Andolon (BAPA) and Bangladesh Environment Network (BEN) is going to organize the 4th International Conference on Bangladesh Environment (ICBEN) held on December 26 & 27, 2020. This conference will be devoted to the 20th anniversary of the founding of BAPA, and, in view of the COVID-19, it will be virtual.
This effort has led to significant progress, including the early successes in removing black smoke-spewing two-stroke engine vehicles (TSVE) from the streets of major cities, the introduction of unleaded gasoline, and re-imposition of the ban on the use of plastic bags. These were followed by the promulgation of new building and construction rules, allowing for more open space; enactment of wetland protection laws; imposition of restrictions on brick kilns aimed at protection of air quality, etc. An important development was the initiation of the movement for the protection of rivers, which form the backbone of Bangladesh's environment. Beginning with the "Save the Buriganga River!" movement, launched in 2000, the river movement has now spread all across the country. It has sensitized the public, drawn the attention of the media, and persuaded the government to take some steps, including removal of some river encroaching structures and formation of the River Task Force and the National River Conservation Commission (NRCC). The High Court has now declared rivers as "living entities" with legal rights and appointed NRCC as custodian with the responsibility of upholding those rights.
Despite these successes, the overall process of environmental degradation continues. The government's efforts to protect the rivers are half-hearted, follows the wrong Cordon approach, are often proving counter-productive and creating the new problem of water-logging. It's big drive toward coal-fired power generation, including near the Sundarbans, is endangering both local and global environment. Plastic pollution is spreading and getting worse. The flawed transportation, settlement, and population policies are creating unbearable traffic jams.
Analyzing the situation, BAPA and BEN noted that a major cause of the disappointing progress in protecting Bangladesh's environment has been lack of proper execution, as a result of which well-intentioned policies were often not implemented or implemented in perverse ways. The annual BAPA-BEN conference of 2015 discussed the problem and suggested ways of overcoming it. However, noting that the performance of government implementation agencies ultimately depends on the political leadership, BAPA and BEN have now called for greater influence of the environment movement on the political leadership of the country. The most recent BAPA-BEN annual conference, devoted to the theme of Political Effectiveness of the Environment Movement (PEEM), held in January 2020, has urged all to convert the environment movement into a mass movement and to think of new ways of increasing its political influence. It is in this backdrop that the 4th ICBEN is being held.
Incidentally, BAPA was formed in July 2000, in the backdrop of the hugely successful 1st ICBEN, which was initiated by BEN and held jointly by Porosh, BEN, BUET, and CEN, in January 2000, in collaboration with more than fifty pro-environment organizations of Bangladesh. Since then BAPA and BEN, together with other pro-environment forces of the country, have been working relentless for the protection of Bangladesh and global environment.
Scope and topics of ICBEN 2020
Following the preceding ICBENs, the ICBEN 2020 too will have a broad scope and will include all major issues related to environment under this purview. The topics of ICBEN 2020 will include the following:
River and surface water bodies,
Climate change,
Natural disasters,
Arsenic and ground water contamination,
Plastic pollution
Energy and environment,
Air pollution: urban and rural
Industrial pollution,
Agriculture related issues of environment,
Urban planning and environment,
Transportation and communication policies,
Rural housing and settlement pattern,
Indoor environment: industrial, urban, and rural,
Forests and Adibashi rights,
Household waste,
Medical waste,
Electronic waste,
Environment, parks, open space, and sports,
Noise pollution,
Biodiversity,
Environment and health,
Environment and tobacco cultivation and consumption,
Environment and food safety,
Environment and law,
Environment and culture,
Environment and the education curriculum and system,
Environment and human rights,
Environment and role of the civil society,
Environment, public administration, capacity building, and governance,
Environment and women and women's movement,
Environment and youth and student movement,
Environment and workers' movement,
Environment and economic and financial policies,
Environment and the role of donor agencies,
Environment and regional cooperation,
Bangladesh and international environment movement,
The need for capacity building to protect environment,
Environment and the movement for self-reliance,
Ways to increase political influence of the environment movement,
Blue Economy & Marine Environment
Coastal & Ocean Environment,
One Health Movement & Ecology
Other issues of Bangladesh environment.
Call for papers
Papers are invited on the topics above for presentation at ICBEN 2020. The timeline for papers is as follows:
October 30, 2020: Submission of the abstract (between 200 and 300 words) stating the title of the paper, name of the author(s) with institutional affiliation(s), and e-mail addresses.
November 30, 2020: Submission of full papers as per the recommended format
December 15, 2020: Decision on the paper presentation
All abstracts and papers should be sent electronically in Word format to the following:
Papers written by authors residing in Bangladesh should be sent to Prof. M. Shahidul Islam, Department of Geography & Environment, Dhaka University, Ramna, Dhaka, at [email protected]
Papers written by authors residing outside of Bangladesh should be sent to Prof. Saleh Tanveer, Dept of Mathematics, Ohio-State University, Columbus, OH 43210, USA at [email protected]
A selection of papers presented at ICBEN 2020 will be published, after necessary editorial process, in the conference volume.
Dual format
Following the tradition of BAPA-BEN conferences, ICBEN-2020 will have a dual format, with "Expert Sessions" for presentation of papers by scientists and scholars and "General Sessions" for presentation by leaders, activists, and representatives of different sections of the society, including direct victims of environmental degradation. To have appropriate representation in the General Sessions, the conference organizers will reach out to various environmental organizations; conservation movements; political parties; trade unions; mass organizations; organizations of women, youth, students; cultural and sports organizations; and other relevant organizations and individuals.
Organizers of the conference
Also following the tradition of ICBENs, BAPA and BEN will invite all universities; environment-related other academic establishments; environmental organizations; conservation movements; and other pro-environment organizations, institutions, and establishments to join ICBEN-2020 as associate organizers. Meanwhile, a Conference Organizing Committee (COC) has been formed with Adv. Sultana Kamal as the Chairperson and Dr. Mohd. Abdul Matin as the Member Secretary for the preparatory purpose of the conference.
Conference office BAPA office at 9/12 Lalmatia, Block D, Dhaka 1217, will serve as the office of ICBEN-2020. The office may be contacted by phone at 02-58152041 and by e-mail at [email protected]