Ten percent mangoes damaged due to Cyclone Amphan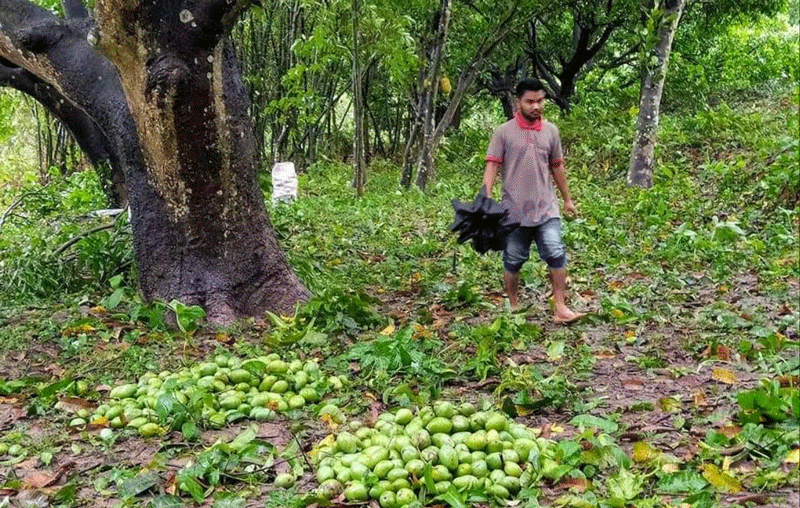 Faruq Ahmed: Due to Cyclone Amphan, One lakh twenty thousand metric tonnes of mango has damaged. It amounts to ten percent of the country's annual production of mango. Most of the mangoes which were supposed to be reaped within some days got knocked off the trees due to the mighty cyclone Amphan that brushed over the two districts.
According to the Department of Agricultural Extension (DAE), there is a total of 4,115 hectares of land were used for cultivating mangoes with a target of 40,000 tonnes in the seven upazilas of Satkhira. Nonetheless, the cyclone Amphan spoiled at least 83 percent of mangoes. Rajshahi Department of Agricultural Extension (DAE) that mango was cultivated on 17,573 hectares of areas with a target of 210,000 tons of mangoes current year. About 12 to 15 percent mangoes fell from the trees due to the overnight stormy wind which might cause loss around Tk. 10 crore of we hypothetically rate per kg mango at Tk 40.
Rashed Iftekhar, agriculturist at the Department of Agricultural Extension's control room in Dhaka was revealed this information. Bangladesh's total 22.31 lakh hectares of orchard, mangoes in about 7,384 hectares were damaged in the cyclone, he also added.
Now, mango farmers have urged the government to purchase mangoes with the engagement of fruit processing industries. By this way, their losses will be minimized.
Dr Sorof Uddin, senior scientific officer of Bangladesh Agriculture Research Institute, said to the media the district administration may take an urgent initiative to give the invitation to fruit processing industries for procuring the mangoes. Naturally, farmers start plucking mangoes midway through may every year while authorities set specific timeframes for its harvest in different districts of the country. The mango farmers also requested the Department of Agricultural Marketing for placing transport and marketing the mangoes to Dhaka and other places in the country as well.
Photo Courtesy: Dhaka Tribune