Environment-Friendly Vermicompost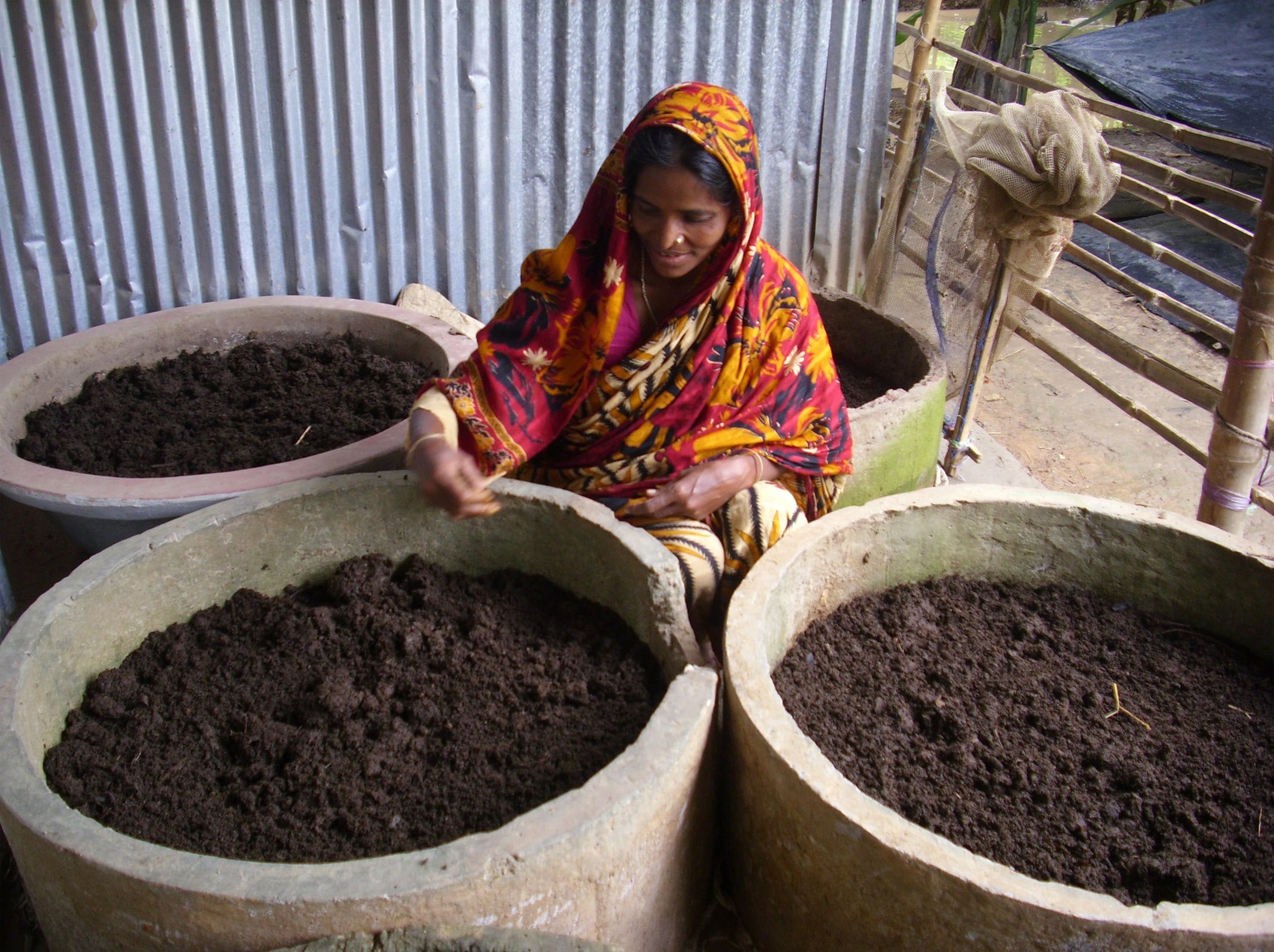 Johirul Haque: Environment-Friendly Vermicompost (an environment-friendly compost produced using earthworm) has created a positive trend among hundreds of farmers in Phulbaira Upazila of Mymensingh. The compost is very helpful for the farmers and the environment as well, sources said. The farmers need less money to make the compost and it is much cheaper than chemical fertilizers, farmers said.
Christian Commission for Development in Bangladesh (CCDB) under its project Comprehensive Poverty Reduction Programme (CPRP) is running the Environment-Friendly Vermi-compost programme at Koyer Chala, Bakta, Enayetpur, Rangamatia, Kanchichura and Nischintapur villages in Phulbaria to make the rural poor women self-reliant through producing vermicompost
The Environment-Friendly Vermicompost can be produced easily at homestead using a  cement slab ring or a big earthen bowl (chari) to keep the earthworms. Once the bin is ready, bedding materials like sand, small pieces of brick is put in it. The worms put in the bin are covered with a layer of bedding, gunny bags or other structure to protect the worms against sun, downpours, and birds. Twenty kgs of cow dung along with 20 kgs bio-waste like straw, hyacinth and vegetable waste are kept in the bin as feedstock for half-kg worms.
The amount of bio-compost what the earthworms eat up, they release its half amount as 'tea dust-like' stool which is called vermicompost. Later the vermicompost is separated through chaloni (sieving/straitening).
At the initial stage, a grower will get 20 to 25 kgs vermicompost after 45 to 60 days. But the harvest period is reduced when the worms' number increases at the bins, said CCDP sources.
The surplus worms can be sold at TK. 1500 per kg. One kg vermicompost is sold at TK. 8 while the price of chemical fertilizer is much higher, said sources. Now some 200 women are involved in vermicompost production in Phulbaria.
In comparison with the chemical fertilizers, vermicompost is better as it has nutritive value for containing the soil fertility. It also helps the soil to grow plants even in the dry season, said CCDB sources. The vermicompost improves soil organic matter, maximizes retention of nutrients in the soil and maintains a balanced soil level, sources added.
Like many vermicompost producers, Jahan Ara of village Koyer Chala is producing vermicompost at her homestead. She started vermicompost production one year ago and now she produces around eight per month and sells it at TK. 8 per kg.
Fatema, another woman of the same village now earns around TK. 3000 per month. Fazila of Bakta, Aysha of Nischintapur while Hasina and Jamila of Kanchichura village started producing vermicompost, seeing Fatema's success.
Talking to this correspondent, some farmers of Koyer Chala said, they use vermicompost in their bitter-guard and brinjal fields and received a good result than using of chemical fertilizers.
Anwar Hossain said, they needed a little amount of TSP fertilizers after using vermicompost this year and the production cost came down.
The farmers also observed less pest attack in their fields after using of vermicompost, farmers informed.
Debasish Kumar Dey, area manager of CCDB said, vermicompost will not only help to improve the soil condition, but it will also reduce the use of chemical fertilizer in a great deal. He also said DAE should include vermicompost in farmer training curricula to train the farmers on vermicompost so that they can produce and use it in their fields.
The environment-friendly vermicompost can also be an income-generating programme for the poor rural women, added the official.
Narayan Chandra Basak, deputy director of Department of Agriculture Extension here said this compost fertilizer is an ideal nutrient source for plants as it is rich with nitrogen, phosphorus and potassium than other traditional composts and it is beneficial for the natural environment.
Environment-Friendly Vermicompost, also an excellent fertilizer for maintaining ecological balance can make the soil's structure well for good production decreasing the indiscriminate use of chemical fertilizers, said the deputy director. The vermicompost can help to produce chemical-free crops, he said adding "when the plants are strong, normally they face less pest attack". Dr. Md. Rafiqul Islam, a professor of Soil Science Department of Faculty of Agriculture at Bangladesh Agricultural University said, vermicompost contains organic matters and increases water holding capacity, improves soil structure easing the water movement and aeration into the soil.
The writer is a journalist. He can be reached at E-mail: [email protected]