Sundarban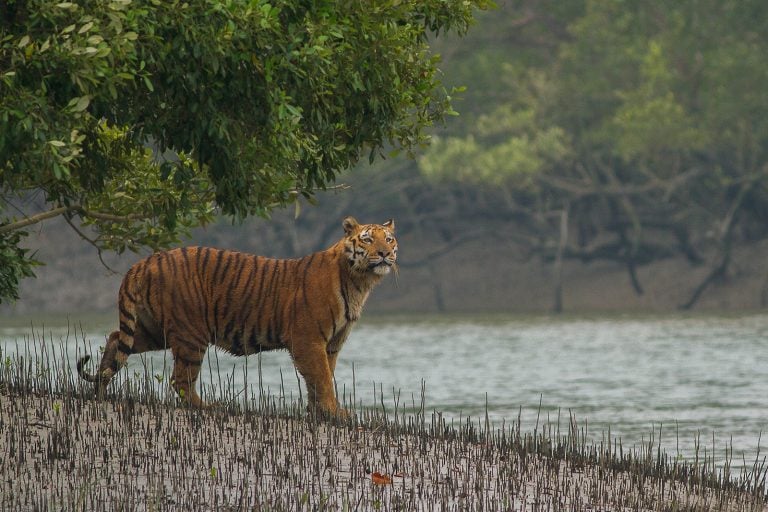 Sundarban, proudly call by Bangladeshi people as home of tigers. It's situated at South-Western delta of country. Sundarban has a huge collection of wild beings, gipsy fishermen; honey-collectors, risky and a mesmerising mingle of rivers and the Bay of Bengal. This forest is largest mangrove forest in the world. The meaning of Sundarban in literally refers to "beautiful forestwhich comes from one kind of trees in the forest named 'Sundari' that are found in the Sundarbans in huge numbers.
This forest is the largest littoral mangrove belt in the world which widen 80 km into the Bangladeshi hinterland from the coastal area. The forests aren't just mangrove swamps though; they include some of the last remaining stands of the mighty jungles which once covered the Gangetic plain.
Sundarban covers 6,000 square kilometers of Bangladeshi land bounded within three districts named Bagerhat, Khulna and Sathkira in the North part of Bay of Bengal and in the South; Baleswar (or Haringhata) river, Perojpur, Barisal district in the East, and Raimangal and Hariabhanga in the West, sharing boundaries with the West Bengal (India). Sundarban lies in the vast delta on the Bay of Bengal formed by the super union of the Padma, Brahmaputra and Meghna rivers. UNESCO declared it world heritage site in the year 1997.
Famous Spots: To seeing tiger, deer, monkey, crocodiles, birds and the natural beauty of the forest, Hiron Point and Katka point are the best spots. Tin Kona Island and Dublar Chor is also a good place for seeing tiger and deer in Sundarban.
How to go: Although water transports is the best for these area but tourist can go there by bus or, air. Tourist can starts their journey from capital's Gabtoli bus terminal. Bus departures from Dhaka every 15 minutes after and will reached at Khulna. Another route is air which fly from Dhaka to Jessore. Tourists can go from Jessore to Khulna by bus. If tourists can go to there by water way, he/she need to go capital's Sadarghat to starts journey with ship. Both day and night-long coach services by road are available in every route.
To visit Sundarban, permission must be taken through written application from the divisional Forest Office and pay required entrance fees for visitors. Tourist also pay for vessel or boat at the appropriate forest station or range office. Bangladesh Parjatan Corporation (Government tour Service) and other tour operating agencies has guided package tour package from Dhaka to Sundarbans.
Reference: http://archive.thedailystar.net/magazine/2011/03/02/travel.htm