Sundarbans, the Green Savior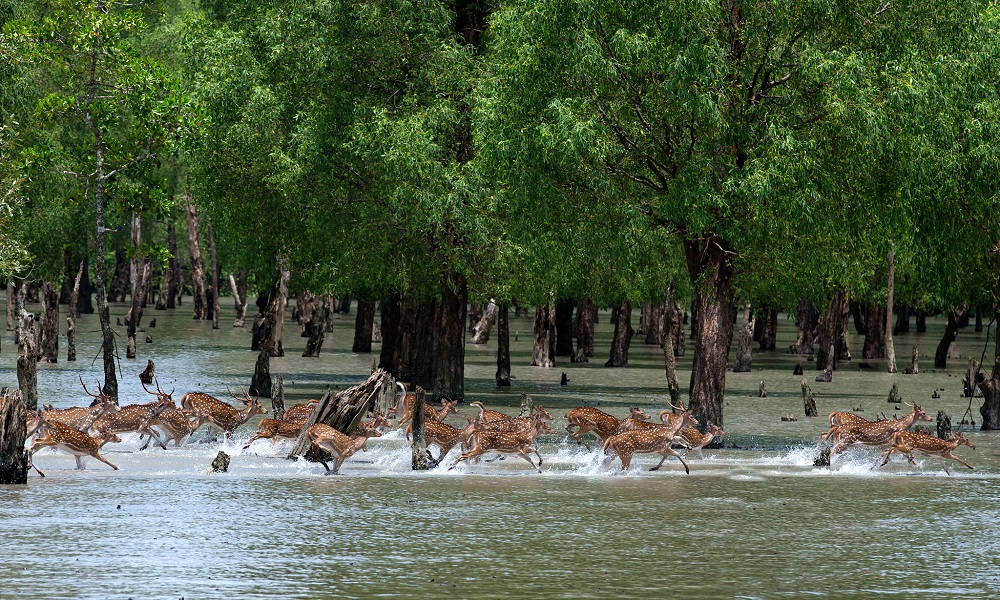 Tahjeeb Hossain Chowdhury: Sundarbans is our Green Savior. It has always been the green protector for both our coastal regions and also the overall country in hindsight. The world's largest mangrove forest has been cradling the people and properties of Bangladesh from devastating calamities. The same has been proven again as Sundarbans have fought off the Cyclone Amphan's adverse effects on the coastal areas of Bangladesh.
From time and again Sundarbans have risen to the occasion again and again in saving our ecology from destructive forces of nature. Cyclones, in particular, could not damage our country's many areas because of how the mangrove could swallow and absorb all the shock that the calamity has.
In the case of Amphan, the Acting Chief Conservator of the Forest, Amir Hossain Chowdhury said to media about how most of the force was absorbed by the forest. He said that the extent of the damage hasn't been confirmed yet, but the nine regional offices of the forest were evacuated in the face of oncoming danger. The Nine offices were as follows: Kotka, Kochikhali, Shelarchar, Pashakkhali, Baherakhali, Puspakathi, Notabeki, Kachikata, Kawakhali.
60 to 70 employees of the forest offices were evacuated in time. The honey collectors were advised to seek refuge in the forest. Tiger Preservation expert Khasru Chowdhury has said about how the forest has saved the areas by absorbing the shock of the storms.
Dr Reza Khan has said to the media that the Khulna district would be akin to a dessert, and people would have problems of employment, if it wasn't for Sundarbans.
The Sidr calamity of 2007 also wreaked havoc in our country. The Chandpai range of the forest was dealt heavy damages as trees were uprooted and vegetation was damaged. Yet, Sundarbans recovered as the Green Warrior it has been.
Sundarbans is a protector of the environment and also a vital cog in the wheel of the overall economy. The Rampal, Mongla, Taltoli, Kalapara industrial activities may cause dire situations for the forest in the future. The government has to plan and take due responsibilities in preserving our bulwark in the form of Sundarbans. The Joint 6017 square kilometers of land within India and Bangladesh do a lot for our overall environmental status. Saving it from future harm should have top-priority as cyclones will keep coming. We will need our protector once again that Cyclones visit again.
(The writer is a marketing graduate, content writer, and data science enthusiast from Dhaka, reach him at [email protected])
Photo Courtesy: National Geographic