Cyclone Amphan on the way to hit Bangladesh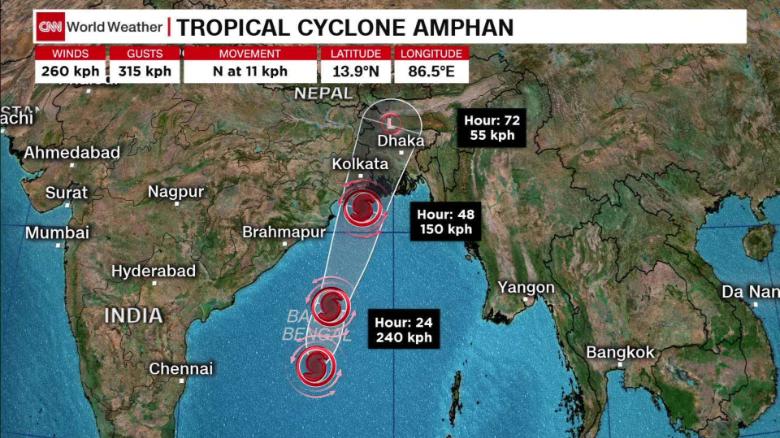 Ashik Rahman: Cyclone Amphan is going to hit Bangladesh coastal districts by Wednesday (May 20, 2020) evening. 14 coastal districts may experience flood due to storm surges of Cyclone Amphan.
Cyclone Amphan has categorized as a super cyclone, was downgraded to an "extremely severe cyclonic storm" by Tuesday afternoon as it lost wind speed while advancing towards coastal areas of Bangladesh.
The Cyclone Amphan has been projected to move in a north-north-easterly direction and cross the Bangladesh-India coast near the mangrove forest Sundarbans between the afternoon and the evening on Wednesday. Bangladesh Meteorological Department (BMD) provides bulletin time to time about Cyclone Amphan.
In a virtual press briefing on Tuesday (May 19, 2020) evening, the state minister said the highest danger signal (signal no 10) would be shown at 6 AM Wednesday and no one will be able to go to Cyclone shelters after the highest danger signal is raised. It will happen due to there will be no volunteers outside to take them to the shelter house.
At 9 PM on Tuesday, the Cyclone Amphan was located 740km southwest of Chittagong port, 695km southwest of Cox's Bazar port, 615km south-southwest of Mongla port and 610km south-southwest of Payra port. The maximum sustained wind speed within 85km of the cyclone center is about 200km per hour (kph), rising to 220kph in gusts and squalls.
All fishing boats and trawlers over the North Bay and deep sea have been advised to take shelter on urgent basis and will remain in shelter until further notice.
The Ministry of Disaster Management and Relief has already allotted Tk. 50 lakh in cash, Tk. 31 lakh for baby food, Tk. 2.8 lakh for dairy feed, 3,100 tons of rice, and 42,000 packets of biscuits as assistance for 19 districts. All of them are allocated for coastal districts excluding Faridpur, Madaripur, Feni, and Sariatpur.
State minister Dr. Enamur Rahman told in the briefing that there are 12,078 cyclone shelters have been prepared to hold over 2 million people while maintaining health guidelines and social distancing. From remote areas and chars to shelters, the armed forces are helping to convey people.
Also, at the shelters, everyone will have to wear protective masks and maintain at least 1 Meter distance between each other due to Corona Pandemic.
Live Tracking – Cyclone Amphan
Photo Courtesy: CNN